A Williamsburg Tradition
Paul's Deli & Neighborhood Restaurant is a new spin on an old Williamsburg favorite. Owned and operated by the family who runs Paul's Deli and College Delly, the New Town location features a blackboard menu that's updated daily and a newly renovated atmosphere with a Italian granite bar top, fine custom woodwork, custom brick designs and four outdoor fireplaces for comfort all year round. And of course, the same family-style service is delivered day in and night out. Come by and see us. We look forward to you being a part of our family!
Let Us Cater Your Event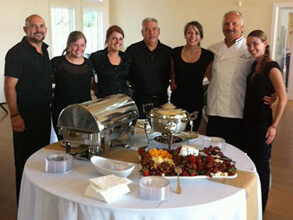 We cater private events of all sizes. From weddings to special events and office parties to formal luncheons, you name it, we cater it. Contact us to plan your event and customize a full menu of delectable dishes that are sure to impress your guests. The options are endless. Paul's Deli Caters!
Daily Food Specials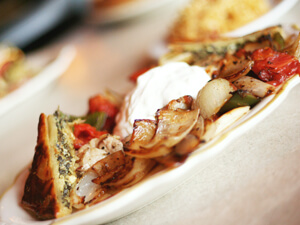 Our specials are cooked fresh daily by our very own Peter Tsipas. Enjoy a variety of sandwiches, pasta dishes, seafood entrées and more. Like the rest of the food on our menu, the portions are ridiculous and the prices are unbeatable. Bring your family in today for a meal you won't forget!
What Others Are Saying
  "One of the best delis in the country!"
                               – Rolling Stone Magazine
★★★★★

I was pleasantly surprised how nice this facility is. A friend and I had lunch and we thoroughly enjoyed a wonderful meal. Food was excellent, service pleasant and attentive. They offer a broad range of craft beers which I will return to sample in the future.